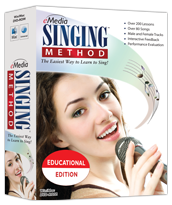 eMedia
Singing Method
Educational Edition Win/Mac Software
"Impressive... one aspect that makes this piece of software particularly fun and engaging is its interactive features."
– Choral Director Magazine (full review)
"eMedia Singing Method will provide a tremendous tool in teaching voice and choir.
I can't wait to implement it into my choral program for next year. Outstanding!"

– Stewart Hollub, Director of Choral and Guitar Programs,
Reagan High School, Austin, Texas
eMedia Singing Method is an effective way to teach voice or improve students' singing, and helps a voice teacher gauge student progress. Over 230 comprehensive, step-by-step lessons designed by professional voice teacher, choral conductor, and soloist Ory Brown, M.M., Westminster Choir College, who has over 25 years of teaching and performance experience. Ory has served on the music faculties of University of Richmond, Longwood College, The Brearley School, and the Berkshire Choral Festival, and has appeared at Carnegie Hall and Lincoln Center.
The voice training tutorials cover a complete range of singing technique and topics, from tone production and the physiology of singing to sight-reading and ear training. eMedia's Interactive Feedback technology even listens as the student sings, and displays whether they are sharp, flat, or right on pitch! Over 80 great songs are included with recordings all vocal ranges. Songs cover a wide range of styles including classical, folk, pop, and showtunes to help students have fun with a varied repertoire.
Singing Method is a great tool for voice teachers and choral directors to engage today's students who are used to the interactive world of websites, video games and other digital experiences. It's ideal for students to use at home for practice and independent study.
Features include:
Over 30 vocal training videos and animations teach proper technique and show how sound is produced by the body.
Over 230 comprehensive, step-by-step voice lessons that start with basics such as proper singing posture, breathing, support, resonance, and singing in time and in tune. The voice training tutorials continue with lessons on how to enhance vocal tone, project the voice, increase vocal range, improve diction, and develop skills such as vocal agility, expression, and sight-reading.
Interactive ear-training and sight-singing tutorials with quizzes on intervals, matching pitches, and other topics for ear training and to teach students sight-reading music notation.
eMedia Interactive Feedback technology that displays the notes being sung on screen in notation as the software listens to the singing via the computer microphone. Color-coded notes display whether the singing is flat, sharp, or on pitch, and arrows show whether the student's singing needs to be higher or lower.
Performance Evaluation technology that listens to the student sing the whole song, gives specific feedback on mistakes, and provides an overall score.
Progress Tracking with reports for assessment for multiple students and classes.
Home User Licenses allows students to use the software at home.
Some included songs are "Imagine," by John Lennon; "Dancing In the Street," made famous by Martha and the Vandellas and David Bowie/Mick Jagger; "Stop! In the Name of Love," made famous by Diana Ross and the Supremes; plus numerous standards, folk songs and classical repertoire including art song (Schubert's Ave Maria) and opera (aria from the "Marriage of Figaro (L'ho Perduta)," by Wolfgang Amadeus Mozart).
Singing lessons and songs include audio and variable-speed MIDI tracks where selections can be looped, slowed, or sped up.
Professionally-arranged live piano accompaniments are included to keep voice training fun and engage the student.
A digital metronome and a recorder so that students can record themselves singing and hear their progress.
Get a new, infinitely patient teacher's assistant – get eMedia Singing Method!
Learn more about the features of this product...
A variety of school licensing options are available.