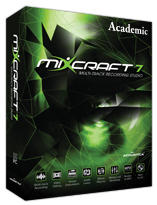 (US and Canada only)
Mixcraft 7 Academic
Standard or Pro Studio Edition
Multi-track Recording Windows Software

2015 Best Tools for Schools

Best Teaching Tool for Advanced Students

–School Band and Orchestra Magazine
Mixcraft 7 is a fun and easy-to-use program that instantly turns your computer into a fully-stocked music recording studio. Educators, schools, and school districts can purchase Mixcraft 7 site licenses. Pricing is volume-based starting from 5-users to 1000+-users.
Mixcraft 7 turns your computer into a powerful digital audio workstation (DAW) and MIDI sequencer, complete with virtual instruments and effects. Record and edit both audio and MIDI, try new song arrangements, create loops, remix tracks, and then mix it down with a virtual mixer for digital delivery and sharing with others. More than music production software, Mixcraft 7 also becomes music performance software and lets you use your DAW compositions in live performances with the amazingly flexible Performance Panel. It's even a great digital video editor that lets you easily create and score finished movies.
Mixcraft 7 is absolutely packed with new features, including 64- and 32-bit compatibility, new Performance Panel for triggering audio and MIDI clips live, two powerful new samplers, automation recording, a slick new step editor, audio warping and quantization, advanced control surface support, a sleek new interface, new loops and plug-ins, and a whole lot more. Includes 13 virtual instruments, two samplers, and 25 audio effects.
The Mixcraft 7 Teacher's Guide is the ideal compliment for educational programs that use Mixcraft in the classroom. The book examines Mixcraft's many capabilities including composing music, recording, mixing, adding effects, and working with video. The Teacher's Guide provides numerous examples of how to incorporate Mixcraft into both music and non-music assignments including marketing and advertising, podcast creation, and spoken word performances. The Teacher's Guide contains 13 inventive lessons designed for grade school through high school classes. Together, these lessons address all of the National Standards for Music Education (NSME). Along with the book is a free "Additional Materials Download" which includes helpful teaching aids such as printable lesson plans, fun example projects, video clips, and other useful resources.
Download the free PDF (English version) of the Mixcraft Teacher's Guide as well as the additional support files.
Learn more about the features of this product...
From our partner Acoustica.