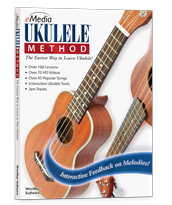 eMedia
Ukulele Method
160+ Beginner Ukulele Lessons
Learn to play the ukulele the eMedia way!
A complete ukulele method featuring fun, interactive ukulele lessons for the price of a couple of private lessons.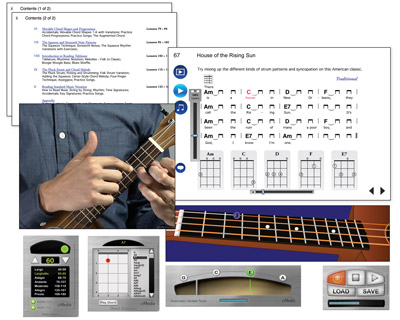 Features include:
Over 160 ukulele lessons covering how to string and tune your ukulele; how to play ukulele chords (including barre chords) and change chords easily; playing ukulele using syncopation, accents, and palm muting with a variety of strumming styles including the blues rhythm.
Animated Fretboard which displays fingering positions as the music plays. Double-click on any note or chord for fingering. Choose right-handed, left-handed, and mirror view and select any of four different fretboard skins!
Songs and lessons with Music Tracking that highlights notes as they are played.

Song looping lets you highlight and repeat any section of music you wish to practice.
All lessons are fully scalable.
Jam Tracks with professionally arranged audio accompaniments so you can play along with a band.

MIDI versions of songs and lessons that allow you to slow down or speed up the music.
Learn to play over 45 popular songs including Bob Dylan's "Knockin' on Heaven's Door," "House of the Rising Sun," "Imagine," "In the Good Old Summertime," "La Bamba," "Amazing Grace," "Aura Lee," "My Melancholy Baby," "Ukulele Lady," "Aloha Oe" "Hawaii Aloha (Ku'u One Hanau)," "Ua Nani 'O Nu'uanu,"... and many more! Play with vocal mix or ukulele-only versions.
Get Interactive Feedback as you play melodies! Receive a 5-star rating or percentage score on your performance.
Great practice tools include eMedia's Automatic Tuner for soprano ukulele, Chord Dictionary with fingering charts and audio playback for over 130 chords, Digital Metronome for improving rhythm, an Audio Recorder to hear your performance and share with friends, and a Note and Finger Tracker to help you play confidently and read music faster.
Great for all ages, from kids to adults.
Learn more about the features of this product...
Also available:

eMedia Ukulele Beginner Pack
eMedia My Ukulele Beginner Pack
Item #: EU12161 UPC: 746290121611