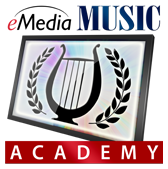 eMedia
Music Academy
The Easiest Way to Learn to Play or Sing
One Subscription, Any Instrument – 7 Day Free Trial!
The eMedia Music Academy is a unique service that gives you access to eMedia's award-winning music lessons software.* One simple subscription can take you from a beginner to an accomplished player across varied musical styles, and even across multiple instruments.
All eMedia courses are designed by qualified instructors and include helpful animations, videos, and great songs plus eMedia's unique interactive music technology that makes learning easy and fun!
eMedia Music Academy membership gives you immediate access to these eMedia instrument methods: