Free Online Guitar Chord Dictionary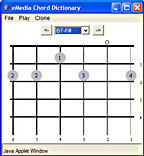 Note: Windows users can take full advantage of this online Java chord dictionary
by using the "Clone" option to display more chords on the screen.
This free, online guitar chord dictionary is a rough, working demonstration of what you get with each of our guitar-based Methods titles (i.e., eMedia Guitar Method, eMedia Intermediate Guitar Method, and eMedia Interactive Rock Guitar). Each Method title features step-by-step lessons supported by videos and great songs in a variety of styles from artists including Eric Clapton, Steve Miller, Bob Dylan, Nirvana, Green Day, and Jimi Hendrix.
eMedia software lessons come bundled with built-in guitar tools: Automatic Tuner, Metronome, Recorder and Chord Dictionary with audio playback. The Chord Dictionary included with eMedia Intermediate Guitar Method is our most comprehensive. It contains over 1000 chords, including chords shown and played for you in three positions on the guitar neck!

If you have any questions, please send an email to eMedia Customer Service.