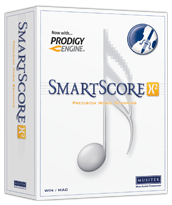 (US and Canada only)
SmartScore X2
Music Notation Scanning and Recognition
Pro
Edition
Songbook
Edition
Guitar
Edition
$399.95
$199.95
$79.95
Musitek's SmartScore X2 represents a revolutionary departure in music scanning technology. In addition to recognizing and reconstructing nearly any scanned musical score or PDF file with astonishing thoroughness and accuracy, it is also one of the easiest music-writing solutions available. Powerful and useful tools are never more than a button away. Complete layout control is at your fingertips. Change staff and system heights, horizontal and vertical margins, line spacing and note size simply by dragging control tabs. Center, offset and unify score layout with a single click. No other program handles scanned-in music so accurately, so simply and completely as SmartScore X2. Other than the human artist, nothing applies so much nuance and realism to the performance of printed sheet music.
Start with astonishingly accurate recognition of standard notation, text/lyric, dynamic/tempo markings. Codas, jumps, repeats and numbered endings all playback with uncanny accuracy. How about multi-staff tablature and percussion part recognition with its elegant new TAB editor? We bring a new standard of usability and logic with support for 2, 3 and 4-voice counterpoint. Try out the demo and discover what SmartScore X2 can bring to your home studio, church, or school.
The SmartScore X2 line includes: SmartScore X2 Pro, SmartScore X2 Songbook, and SmartScore X2 Guitar. See "Features" tab for edition comparison chart.
Learn more about the features of this product...
From survey responses, our customers rate this product:
4.2

stars based on

22

reviews.
From our partners at Musitek.
Item #: SS00135 (Guitar) UPC: 746290001355
Item #: SS00132 (Songbook) UPC: 746290001324
Item #: SS00130 (Pro) UPC: 746290001300