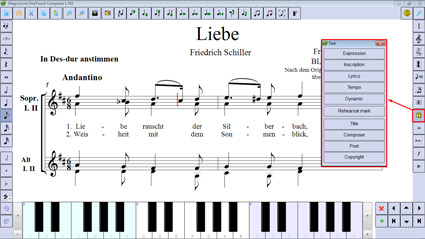 What if your muse comes unexpectedly? With your Windows tablet, you can compose and arrange music anywhere!
OneTouch Composer is the best solution for anyone from amateurs and students to teachers and professional composers. It is the winner of the Intel Application Innovation Contest and was named the best notation software by Top Ten Reviews. Derived from the popular music notation software MagicScore Maestro and optimized for Windows tablet, OneTouch Composer is very easy to use.
Compose, arrange, print, publish to the Web. Learn and teach music. Listen to the music as you write it! You have everything you need for your work, study, teaching, creativity, and rehearsals. Cutting-edge technologies and an intuitive, user friendly, interface will help you to get perfect results fast and easy. Your score will look great, and your music will be even greater!
Features include:
All functions are available from the main window
Virtual piano keyboard for quick note entry
Export to PDF, MIDI, MusicXML and Karaoke formats.
Publish live printable and playable musical scores on your Website using free MagicScore Online plug-in.
From our partners at Maestro Music Software.