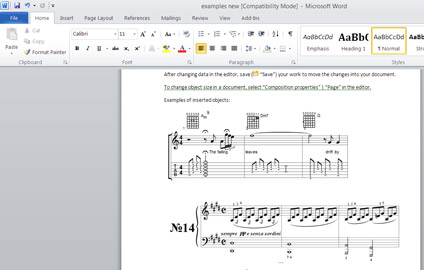 MagicScore Notation For MS Word is powerful music notation software that allows you to place editable music notation in a Microsoft Word® document. It's great for educators, lessons studios, bands, and worship leaders who need to distribute music notation with performance notes and graphics but don't want to require students or band members to purchase notation software. If you ever wondered how to add notes and music symbols in Word, you've found the perfect solution.
Other notation programs only export an image of the score which cannot be changed once imported into Word. MagicScore Notation for MS Word lets you easily edit music notes in Word as well as musical symbols and other parts of a musical score. Simply place the MagicScore Notation object in your Word document, click on the part of the music that needs to be changed, and you'll launch the editor window. Select "Update" in the editor and your changes are instantly reflected in Word. Anyone with Word will be able to open, view, and print your document with the included score and can even edit non-notation elements on the page such as text or graphics.
Those who teach music love what they can do with MagicScore Notation for MS Word. Creating music worksheets, flash cards, and tests is easy when you can add notes and music symbols in Word. Text and music notation flow together easily in a single Word document for easy distribution. Import MIDI, MusicXML, and gp4 guitar tab files (compositions, examples, exercises, etc.) and add fingering suggestions and performance comments. Editing the pitch of individual music notes and transposing parts for any instrument are easy tasks. Add tables, charts, formulas, text, and more along with your music notation in Word to create almost any imaginable document.
MagicScore Notation For MS Word is a plug-in for a host application, not a stand-along product like MagicScore Maestro. Word is the officially-supported host, but Magicscore Notation for MS Word currently works with other programs that support OLE (object embedding) including Open Office.
Features include:
Full-featured notation software that lets you place music notation with editable notes, chords, and music symbols in Word. Even creating guitar tabs in Word is easy!
Note entry via the Note Palette, a virtual piano or guitar, Chord Builder, key commands, or MIDI keyboard lets you quickly add music notes in Word. Part extraction allows music notation in Word for individual parts in score.
Listen to your music with dynamics and articulations using MIDI orchestral and band sounds.
Drag and drop articulations, dynamics, or tempo markings anywhere in the score and easily attach them to any note or measure Add music symbols in Word the easy way with MagicScore's extensive tool palettes.
Write music in clean, crisp notation using flexible templates, multiple articulations, and dynamics while having access to an unlimited number of staves and measures in each score. Customize any of the predefined ensemble templates or choose from dozens of instruments and staff configurations. No more fussing with music fonts in Word that can never deliver a satisfying score. Save files in DOC format for unsurpassed compatibility and ease of use.
Print documents complete with any annotations or instructions directly from within Word.
Extensive and interactive Help system.
Learn more about the features of this product...
From our partners at Maestro Music Software.
Item #: MA02157 UPC: 746290021577