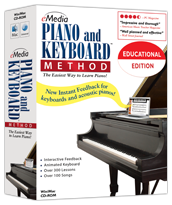 eMedia
Piano and Keyboard Method
v3
Educational Edition Win/Mac Software
"I am very impressed by the ease of use of the eMedia software. I recommend it ... Adding a computer and eMedia's software to your guitar or piano lab can add a new dimension to your teaching."
– Tom Rudolph Ed. D, (former) President & Founder, TI:ME
Director of Music, Haverford School District, Wallingford, PA
"An impressive and thorough piano teaching program."
– American Music Teacher Magazine
eMedia Piano and Keyboard Method is a powerful tool for teaching music that combines interactive music education technology with a complete piano curriculum featuring over 300 lessons by Irma Irene Justicia, M.A., who has taught at the renowned Juilliard School of Music. eMedia's piano software is rapidly becoming the standard in today's music labs where a comprehensive piano curriculum is required, and easy music assessment is desired by music educators.
eMedia's music technology makes piano lessons more productive and engaging for today's students who are used to interactivity, videos and games. Interactive Feedback technology shows piano students whether they are playing notes correctly and Performance Evaluation scores them on their performances for easy music assessment and grading. The Educational Edition even enables instructors to track progress of a music lab of up to 500 students and includes a printed teacher's guide.
Students learn how to read music, play piano chords, scales, and more with this complete piano curriculum. Also, since teaching music with songs is a great way for students to apply their piano technique – eMedia Piano and Keyboard Method includes over 100 songs including hits from Billy Joel and Elton John, traditional folk songs and beginning classical piano pieces by Beethoven and Bach. Student versions of Piano and Keyboard Method are also available, so the same piano software for school MIDI labs can also be used as part of a student's home practice plan.
Features include:
An Animated Keyboard to see fingering for piano lessons and songs.
Interactive Feedback with Note and Finger Tracker that listens as students play melodies and displays their playing accuracy – a great tool for beginner piano instruction that works with both electronic keyboards and acoustic pianos.
Interactive Performance Evaluation in the piano software, which highlights your playing mistakes and shows what you should have played with an overall score (MIDI keyboard required).
Lessons for teaching music basics such as piano technique, reading music notation, piano chords, scales, and more.
Over 70 piano lesson videos with split screen views show how to play piano fingerings and use correct hand positioning.
Piano lessons and songs as audio and MIDI tracks, where selections can be looped, slowed down, or sped up.
Progress Tracking for music assessment of up to 500 students.
Printed teacher's guide with tips on how to best utilize the piano software.
Accompaniment tracks to keep piano lessons fun.
An integrated metronome plus an audio recorder, which makes a great additional music assessment tool.
100 popular classical, blues, pop, and rock songs including Bach's "Minuet in G," Dvorak's "New World Symphony," Billy Joel's "Piano Man," Bob Dylan's "Knockin' on Heaven's Door," Elton John's "Candle in the Wind" and more!
Learn more about the features of this product...
eMedia Piano and Keyboard Method is the ideal piano software for school MIDI labs – whether you're creating a new MIDI lab or looking to complement your current piano curriculum and make music assessment easier. eMedia Piano and Keyboard Method is recommended for Grades 4 and up. eMedia also offers My Piano for teaching piano to younger students.
A variety of school licensing options are available.