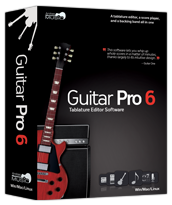 Guitar Pro 6
Guitar Tablature Win/Mac Software
"Guitar Pro has become the standard for electronic tablature editing and composition." – Guitar Player
"The best guitar-tablature editing software around." – PC Magazine
"Complete workshop for guitarists at an affordable price." – Guitar World
Guitar Pro is known worldwide as the most powerful and intuitive tablature editor and composing software available for Windows and Macintosh. New version 6.0 includes over 40 dramatic improvements on the features that have made it the most popular guitar tablature editor on the market. Tens of thousands of Guitar Pro format files are available on the Internet. Guitar Pro 6 features an upgraded Realistic Sound Engine (RSE) for exceptionally realistic playback of guitar notation.
Guitar Pro is ideal for creating lead sheets, lessons, exercises and teaching new songs to your students. Recommended for Grades 4 and up.
Learn more about the features of this product...
Guitar Pro is available in Single User and discounted multiple station site licenses. Please contact eMedia to request a quote.
From our partner Arobas Music