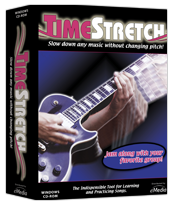 TimeStretch
Change Tempo or Pitch of Any Song
The indispensible tool for learning and practicing songs.
Slow down any music without changing pitch and jam along
with your favorite recordings.
TimeStretch lets you learn or practice any piece of music at any speed! It slows down the music without changing pitch so you can play along slowly and gradually come up to the tempo of the recording. Music teachers will be delighted by how much easier it is to transcribe or analyze a song with adjustable tempo. Additionally, TimeStretch can transpose a piece of music, adjusting it to a higher or lower register as needed. Adapt, select parts, save and burn from your audio CDs and WAV, MP3 and WMA files. This indispensable tool help you learn songs and jam along with your favorite recordings.
Learn more about the features of this product...
From survey responses, our customers rate this product:
4.1

stars based on

11

reviews.
From our partners Prodipe & IPE Music.