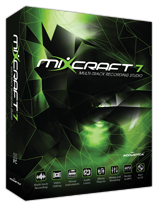 (US and Canada only)
Mixcraft 7 (or Pro Studio)
Multi-track Recording Workstation
"Mixcraft goes the extra mile."
– Craig Anderton, Keyboard Magazine
"Mixcraft continues to be both good value for money
and, as promised, easy to use."
– Sound On Sound Magazine
Mixcraft turns your computer into a powerful digital audio workstation (DAW) and MIDI sequencer, complete with virtual instruments and effects. Record and edit both audio and MIDI, try new song arrangements, create loops, remix tracks, and then mix it down with a virtual mixer for digital delivery and sharing with others. More than music production software, Mixcraft also becomes music performance software and lets you use your DAW compositions in live performances with the amazingly flexible Performance Panel. It's even a great digital video editor that lets you easily create and score finished movies.
Mixcraft 7 is music creation software that's perfect for those just starting out with music production. It provides all the basic digital audio workstation features you need to get song ideas recorded, edited, and mixed. You get an assortment of audio plug-ins for EQ, Reverb, Delay, and other music production needs. You also get an assortment of six virtual instrument plug-ins including strings, piano, guitar, organs, and analog synthesizers that you can play with a MIDI keyboard or with the built-in Musical Typing Keyboard.
Mixcraft 7 plug-ins include:
Virtual Instrument Plug-Ins: Acoustica Instruments (sampled instrument sounds), Impulse, Minimogue VA (modeled analog synthesizer), Messiah, VB3 Organ, and Alpha Sampler.
Audio Processing Plug-Ins: Both Acoustica and Classic versions of Chorus, Compressor, Delay, Distortion, EQ, Flanger and Reverb effects, plus Classic Auto-Filter, Phaser and Master Limiter effects. Also included is the EZQ Equalizer, GTune Guitar Tuner, plus a Voxengo Spectrum Analyzer, and Amp Simulato.
Mixcraft Pro Studio 7 offers advanced music production software with unlimited tracks, expanded mixer routing capabilities, the ability to directly burn CDs and export mixes as MP3 files. It includes over $1,100 worth of effects processing and instrument plug-ins plus thousands of music loops and sound effects. Mixcraft Pro Studio 7 music creation software delivers endless creative possibilities.
Pro Studio 7 plug-ins include:
Virtual Instrument Plug-Ins: Virtual Instrument Plug-Ins: Pianissimo Piano (with pristine Steinway™ Model D piano samples and physical modeling), Alpha and Omni Samplers (for realistic strings and other sampled sounds), Memorymoon (a modeled Moog Memorymoog) and ME80 v2 Analog Synthesizers, QuikQuak's Glass Viper (a WaveForm Shaping synthesizer), Journeys (a synthesizer for world music by Applied Acoustics Systems), and the Renegade (from G-Sonique) analog synthesizer.
Audio Processing Plug-Ins: SideKick6 Sidechain Compressor, Studio Devil Virtual Bass Amp, Fusion Field Convolution Reverb, Treble Cream Transient Softener, TRW-1 Vacuum Tube Triode Warmer, VTC-1 Vacuum Tube Compressor, DUBSHOX Multi-Band Distortion, POD4500 Particle Delay, PSEQ-1 Vacuum Tube Passive EQ, VBE-1 Vacuum Tube Bass Enhancer, and powerful mastering tools from iZotope, G-Sonique, and ToneBoosters.
All versions of Mixcraft feature:
Multitrack recording with looping and punch in/out
Full MIDI sequencer capabilities with real time recording plus Step and Piano Roll Editors
Notation mode for writing and printing sheet music
Mix automation and editing
Live Performance Panel for triggering synchronized audio and MIDI loops and clips
Virtual instrument plug-ins
Audio processing plug-ins
Loop and Sample Library with thousands of audio loops
Support for VST 2.4 effects and instruments
Video editing
Learn more about the features of this product...
From survey responses, our customers rate this product:
4.5

stars based on

31

reviews.
From our partner Acoustica.