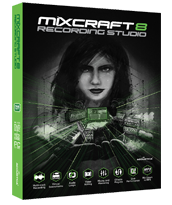 (US and Canada only)
Mixcraft 8 (Recording or Pro Studio)
Multi-track Recording Workstation
"Mixcraft goes the extra mile."
– Craig Anderton, Keyboard Magazine
"Mixcraft continues to be both good value for money
and, as promised, easy to use."
– Sound On Sound Magazine
Mixcraft 8 turns your computer into a powerful digital audio workstation (DAW) and MIDI sequencer, complete with virtual instruments and effects. Record and edit both audio and MIDI, try new song arrangements, create loops, remix tracks, and then mix it down with a virtual mixer for digital delivery and sharing with others. More than music production software, Mixcraft also becomes music performance software and lets you use your DAW compositions in live performances with the amazingly flexible Performance Panel. It's even a great digital video editor that lets you easily create and score finished movies.
Mixcraft 8 Recording Studio provides all the basic digital audio workstation features you need to get song ideas recorded, edited, and mixed. You get an assortment of audio plug-ins for EQ, reverb, delay, and other music production needs. You also get an assortment of virtual instrument plug-ins including strings, piano, guitar, organs, and analog synthesizers that you can play with a MIDI keyboard or with the built-in Musical Typing Keyboard.
Mixcraft 8 Pro Studio offers advanced music production software with expanded mixer routing capabilities, the ability to directly burn CDs and export mixes as MP3 files, and natively integrated Melodyne Essentials. It includes over $1,250 worth of effects processing and instrument plug-ins plus thousands of music loops and sound effects. Mixcraft 8 Pro Studio music creation software delivers endless creative possibilities.
Both versions of Mixcraft feature:
Multitrack recording with looping and punch in/out
Full MIDI sequencer capabilities with real time recording plus Step and Piano Roll Editors
Notation mode for writing and printing sheet music
Mix automation and editing
Live Performance Panel for triggering synchronized audio and MIDI loops and clips
Virtual instrument plug-ins
Audio processing plug-ins
Loop and Sample Library with over 7,500 loops, sound effects, samples, and song kits
Support for VST 3 effects and instruments
Video editing
Audio Warping and Audio Quantization
Improved time stretching and pitch shifting technology
Multiple automation lanes for single track
Performance panel for live triggering of audio and MIDI loops and clips
Plug-and-play support for Novation Launchpad, Mackie Control, and Frontier Design Tranzport controllers
Step Editor for beat and pattern creation
Learn more about the features of this product...
From survey responses, our customers rate this product:
4.5

stars based on

31

reviews.
From our partner Acoustica.
Item #: AC35436 UPC: 728028354362
Item #: AC43617 (Pro Studio) UPC: 728028436174