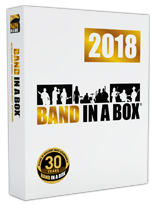 (US and Canada only)
PG Music Band-in-a-Box 2018
Automated Music Accompaniment
Pro
(Win/Mac)
MegaPAK
(Win/Mac)
UltraPAK Win
UltraPlusPAK Mac
UltraPAK+ Win
EverythingPAK Mac

Audiofile
(Win/Mac)
OMNIPAK
(Windows)
$129
$269
$469
$569
$669
$669

Select downloadable or boxed versions from the drop-down menu above.
Your backing tracks will sound even better with RealDrums and RealTracks. These sound best because they are actual recordings of the performances by top studio musicians. RealTracks are available in a wide range of musical styles, keys, and tempos. RealStyle automatically selects RealTracks for you when generating an arrangement. RealCharts even lets you view the music notation and guitar tab/fretboard display.
For added versatility, you can import your own or 3rd party loops or your favorite MIDITrack in any style to any track in your arrangement. Use the built-in mixer to control volume, panning, tone, and reverb for each instrument in your ultra-realistic Band-in-a-Box arrangement. The "Combo" slider lets you make changes to all tracks at once.
Already have a song recording? A unique Audio Chord Wizard can detect the chords in any AIFF, MP4, M4A, or other audio files and display them inside Band-in-a-Box, and an Audio Wizard can determine the tempo, bar lines, and song's key.
Print your song arrangements as sheet music or save as audio files (AIFF, M4A, WAV) for use in other programs (e.g., GarageBand, Cubase, etc.) or to share on the Internet.
New features for Band-in-a-Box 2018 for Windows include:
Introducing Video RealTracks, which work like RealTracks with videos of the musician's performance.
A new, ultra-low latency audio driver (Windows Audio Session).
A redesigned Audio Chord Wizard.
The Audio Harmonies feature has been enhanced with Audio Transcription, which converts a monophonic audio track to notation.
A new Fix Tuning feature to correct an out-of-tune audio recording.
Export the Notation Window to video synchronized with the audio track playback.
Support for compound time signatures such as 12/8, 6/8, and 9/8.
Toolbar skins and other customization features.
Open or Save As ABC notation files, which as common song files on the Internet with chords and melody.
Export your song as a high-resolution MP3.
A redesigned Audio Edit Window with new features.
202 new RealTracks – bringing the total up to 300!
and more!
Features include:
Generates backing tracks and jam tracks in all popular music styles including Jazz, Blues, Funk, Rock, Pop, Country, Folk, and more!
Automatically generated melodies and solos that you can study.
RealTracks and RealDrums that give you access to recordings by top studio musicians for use in your songs.
Artist Performances by great players such as Downbeat jazz winners Eric Alexander (tenor sax), Ron Carter (bass), Kenny Barron (piano), Lewis Nash (drums), Gary Smulyan (baritone sax), Mike Moreno (guitar), and Phil Woods (alto sax). Plus, you get tracks by gypsy jazz guitarist Quinn Bachand and noted Nashville session players Brent Mason (guitar) and Kevin McKendree (piano).
RealCombos that make it easy to assign all song tracks to the same style using a RealTracks band.
Import an audio file, record audio, or render your song to an Audio track or export as a YouTube video.
Import a simple acoustic guitar demo and then use the Audio Chord Wizard to detect the chords and the Audio Wizard to determine the tempo, bar lines, and song key. Use Band-in-a-Box to flesh out your arrangement with a full band.
Time-saving features include automatic track labels, video tutorial-help buttons, and a Piano Window to display piano notes.
The new Audio Edit Window displays a digital waveform for the Audio track for selecting, playing, and editing audio.
1,000 modern electronic dance and Top 40/pop style loops.
Import/Export of AppleLoops on Mac and Acid files on Windows.
MIDI styles and MIDI SuperTracks that allow you to customize MIDI sounds and edit notes.
Instrumental Studies for guitar with performances to help you learn to play backing or lead guitar in different styles.
Print song arrangements as a lead sheets including music notation.
sforzando VST synthesizer with support for the popular .SFZ sound format and Hi-Q sounds.
Band-in-a-Box for Windows also includes RealBand
Band-in-a-Box is available a in a variety of configurations to suit your needs.
Learn more about the features of this product...
From survey responses, our customers rate this product:
4.3 stars based on 16 reviews.
From our partner PG Music.