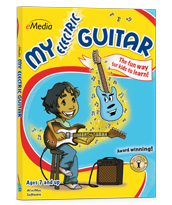 eMedia
My Electric Guitar
v2
60+ Rock Guitar Lessons for Kids

It's easy and fun to learn with Rocky the Guitar!
Rocky explains how, the videos show how, and the screens have the songs. Students can learn how to tune their guitar, play riffs, strum power chords, and more.
Now kids can learn how to play electric guitar the fun and easy way. My Electric Guitar features Rocky the Guitar, an animated character who leads children through a selection of beginner guitar lessons for kids. It was designed by Charles McCrone, a graduate of the renowned Guitar Institute of Technology at Musician's Institute. Over 60 guitar lessons cover power chords, riffs, how to read guitar tabs, and more. Kids even get a taste of simple lead guitar as they learn how to play the blues scale.
eMedia's Animated Fretboard shows children where to place their fingers, so they learn faster. Interactive Feedback listens to them with the computer's microphone to let them easily see if they are playing the correct notes in melodies and riffs. These beginner lessons include fun, interactive music games for kids to keep them engaged and learning.
Research proves that children who play music excel in their schoolwork and social interactions. Kids guitar lessons can build self-confidence, discipline for good study habits, and encourage creativity.
Features include:
Videos showing close-up and split-screen views of both hands to show proper fingering and picking.
Interactive Feedback to let kids see when they are playing the right notes in riffs and melodies.
Guitar lessons for kids covering how to play basic rock guitar chords (such as power chords), plus strumming patterns and palm-muting techniques.
Guitar tutorials teaching guitar tricks such as string bends, pull-ons, hammer-ons, and riffs, plus how to play the blues scale.
eMedia's Animated Fretboard to display proper guitar fingerings as the music plays.
Interactive lessons that teach kids how to read guitar tabs (a standard notation for guitar music).
Excercises in the style of popular rock songs which teach rock power chords.
Guitar lessons for kids that include both audio tracks and MIDI tracks where selections can be looped, slowed, or sped up.
Integrated guitar software tools include an automatic guitar tuner, chord chart/dictionary, metronome, and recorder
Get music into a child's life with My Electric Guitar – beginner guitar lessons for kids that deliver electric, rockin' fun!
Learn more about the features of this product...
From survey responses, our customers rate this product:
4.7 stars based on 27 reviews.
Item #: EG08156 UPC: 746290081564