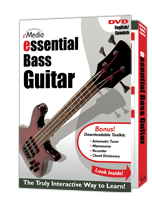 eMedia
Essential Bass Guitar
DVD Video + Bonus Downloadable Software!
eMedia Essential Bass Guitar's 32 easy-to-follow lessons range from the basics such as stringing and tuning your bass to major scales and creating a bass line. Professional bass instructor John Arbo guides you with video demonstrations of techniques. Learning the bass has never been so easy.
Dual-Language: English and Spanish!