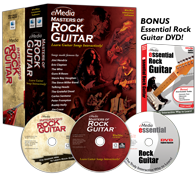 eMedia
Rock Guitar Collection
100+ Rock Guitar Lessons + 14 Rock Guitar Songs!
"A fun way to get rockin'"
– Guitar World
"Rock Guitar Method is a superior product that helps beginners and intermediates to become better rock guitarists. 5 out of 5 Rating'"
– John Nemerovski, MyMac.com
The eMedia Rock Guitar Collection is a collection of rock guitar instruction software that provides everything you need to learn rock guitar and to play note-for-note cover versions of famous rock guitar songs. It includes both eMedia Interactive Rock Guitar, the highly acclaimed software that teaches beginners and others how to play rock guitar, and eMedia Masters of Rock Guitar, which dives deep into classic rock guitar songs and styles to help you refine your rock guitar technique. Plus, you get a copy of the eMedia Essential Rock Guitar interactive DVD for those times when someone else is on the computer, but you still want to hone your rock licks and jam with some tracks.
Charles McCrone, graduate of the Guitar Institute of Technology (the legendary rock guitar school), has crafted over 100 rock guitar lessons to provide a great overview of rock technique and gear. eMedia Interactive Rock Guitar helps both beginner and intermediate players learn how to master rock guitar basics like power chords, bar chords (barre chords), rock guitar licks, and how to play lead guitar using the blues scale. This extensive set of rock guitar lessons also teaches you how to read guitar tabs (tablature) and play songs. Start with easy rock guitar songs and progress to more difficult songs as you develop your rock guitar skills. It even includes an overview of guitar effects pedals (distortions, delays, etc.)!
eMedia music technologies such as the Animated Fretboard, Interactive Feedback, and Performance Evaluation make learning easier. Instant Feedback highlights correctly played notes making learning faster and easier. The Animated Fretboard shows guitar riffs, string bends, and rock guitar tricks in real-time on a guitar fretboard. Songs and exercises can also be slowed down and looped in order to make learning difficult parts easier.
Master classic rock guitar songs made famous by Clapton, Hendrix, The Kinks, Green Day, Blue Öyster Cult, Nirvana, The Who, Santana, Stevie Ray Vaughan, and others. These songs make practice fun as you learn how to play rock, punk, and metal guitar styles. Jam Tracks are included, so you can play along with a rhythm section; all great tools to prepare you for jamming with a band.
Features include:
More than 50 videos include split-screen and close-up views of both hands which show techniques needed to learn how to play guitar.
Rhythm guitar lessons with rock techniques such as power chords, bar chords (barre chords), palm muting, and more.
Lessons on how to play lead guitar that include: string bends, vibrato, hammer-ons, classic rock guitar licks, and how to play guitar scales such as the blues scale.
Classic rock guitar songs that teach you how to play rock guitar and build-up a library of great songs to play with others. Learn how to play "Paranoid" (Black Sabbath), "You Really Got Me" (Van Halen/The Kinks), "All Along the Watchtower" (Jimi Hendrix / Bob Dylan), "Bad, Bad Leroy Brown" (Jim Croce), "Before You Accuse Me" (Eric Clapton / Bo Diddley), "Behind Blue Eyes," (The Who), "Baby, I Love Your Way" (Peter Frampton), "Knockin' on Heaven's Door" (Guns 'N Roses / Bob Dylan), "Jet Airliner" (The Steve Miller Band / Paul Pena), "Magic Man" (Heart), "Oye Como Va" (Carlos Santana / Puente), "Take Me to the River" (Talking Heads / Al Green), "That'll Be the Day" (Buddy Holly), "Truckin'" (Grateful Dead), "Rock'n Me" (The Steve Miller Band), and "The Sky is Cryin'" (Stevie Ray Vaughan / Elmore James). Included are celebrity performances by Peter Frampton ("Baby, I Love Your Way") and Roger Fisher, former guitarist of Heart ("Magic Man").
Individual rhythm tracks for isolating guitar and bass parts and jamming, plus Jam Tracks with slow and fast versions to help you practice guitar riffs and play lead guitar with a backing band!
Guitar parts as both guitar tabs and standard music notation, including pivotal solos by Hendrix and Slash.
An Animated Fretboard to easily see fingerings for chords, riffs, and guitar scales in lessons and songs.
The ability to highlight and loop song sections to repeat any section of a song.
Variable-speed MIDI playback to let you slow down the music as needed to master difficult parts.
Interactive Feedback and Finger Tracker technology that listens to your playing and lets you see when you play the correct notes in lessons, songs, riffs and solos.*
Performance Evaluation to score how well you play notes and rhythms in a whole song or exercise.*
Photos and biographical information about the songs and artists plus guitar and bass performance notes.
Integrated guitar software tools include a digital guitar tuner (with custom tunings as needed), chord chart/dictionary, a recorder, and a digital metronome.
* These features require a computer microphone or line-in connection.
eMedia delivers a complete suite of rock guitar lessons and great rock guitar songs. Plug-in and rock out with the eMedia Rock Guitar Collection!
Learn more about the features of this product...
Item #: EG10143 UPC: 746290101439