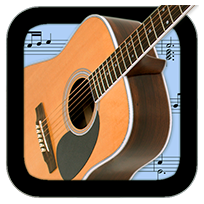 eMedia
Guitar Method for iPad®
Best Beginner Guitar Lesson App for iPad
"eMedia Guitar Method is the best CD-ROM package I've seen
for guitar instruction." – Guitar One Magazine

Editors' Choice – "This program is comprehensive, clear,
well organized, and visually compelling."
(review of CD-ROM version)
– PC Magazine
The world's best-selling guitar instruction software, eMedia Guitar Method, is now available on the iPad! Learn anytime, anywhere! Over 120 step-by-step lessons cover basics like stringing your guitar and playing simple chords to techniques such as strumming styles, playing melodies, fingerpicking styles, and reading tablature. By the end, you'll be able to play songs made famous by artists such as the Rolling Stones, Bob Dylan and Guns N' Roses!
eMedia's step-by-step approach is the easiest way to learn guitar. Over 50 full-screen videos from professional guitar instructor Kevin Garry, Ph.D., introduce each new technique, using split screens and close-ups of both hands. You then practice the technique slowly with exercises. Finally, you play a song that includes the new technique.
In total, over 60 songs cover folk, blues, classical and rock styles. A modern rock chapter teaches various strumming styles, movable power chords, and power chord riffs. With every song and exercise, our Animated Fretboard guides you through the fingerings, while our Music Tracking shows you what to play. The new touchscreen interface we've developed for the iPad makes interacting with songs and learning even easier – highlight a tricky section of music by simply touching it with two fingers and pinching, then loop and repeat it to learn. You can even control the speed of songs in iOS 5! No previous guitar experience is needed, just an acoustic or electric guitar – everything else you need to start playing is included!
The combination of eMedia's revolutionary multimedia guitar instruction software and the iPad creates the ultimate in portable and convenient guitar instruction. Learn anytime, anywhere: at home, in the park, or when you travel. Just slip your iPad into your guitar case and go!
Also available...
eMedia Guitar Method
CD-ROM version!
eMedia Guitar Method Deluxe
2 CD-ROM set
eMedia Guitar Collection
4 CD-ROM set
From survey responses, our customers rate this product:
4.7 stars based on 33 reviews.
iPad and iTunes are trademarks of Apple, Inc., registered in the US and other countries.