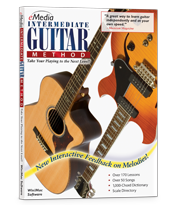 eMedia
Intermediate Guitar Method
v3
170+ Intermediate Guitar Lessons
"I used to teach guitar, and eMedia Guitar Method is the greatest
because it centers around playing songs. And if it's not about
playing songs, what's it about?"
– Nancy Wilson, guitarist/vocalist of Heart
Enhance both rhythm guitar and lead guitar technique with eMedia Intermediate Guitar Method. This complete method features over 170 guitar lessons designed to advance your playing, and was created by Kevin Garry, Ph.D., University of Colorado-Boulder, a music professor and award-winning gutarist.
Features include:
eMedia's Animated Fretboard, which shows you fingerings for guitar chords, guitar scales, notes, and exercises.
The Note and Finger Tracker tool, which can display the melody notes you play in real time, both as guitar notes (music notation) and on the fretboard, with correctly played notes highlighted as you play.
Music theory lessons covering the circle of fifths with guitar theory lessons on intervals, constructing guitar chords (incl. jazz chords and extensions), and guitar scales. These help you learn how to play lead guitar, rhythm guitar, and improvisation.
A directory of all crucial guitar scales, including major, minor, blues, and pentatonic scales with recordings and complete scale fingerings.
Over 50 songs, with hits made famous by Eric Clapton, Jimi Hendrix, Jeff Beck, Jerry Garcia, Steve Miller, and others.
Guitar lessons with guitar tabs (tablature) and standard guitar notes.
Videos with split-screen view with close-ups of both hands.
Songs and lessons as audio and variable-speed MIDI tracks where selections can be looped, slowed or sped up.
Guitar tools that include an automatic guitar tuner, guitar chord chart/dictionary, recorder, guitar scale directory, and metronome.
Learn more about the features of this product...
Note: eMedia Intermediate Guitar Method was previously titled eMedia Guitar Method Volume 2.
Also available in
2- or 4-CD-ROM sets...
eMedia Guitar Method Deluxe
2 CD-ROM set
eMedia Guitar Collection
4 CD-ROM set
From survey responses, our customers rate this product:
4.6 stars based on 54 reviews.
Item #: EG10112 UPC: 746290101125