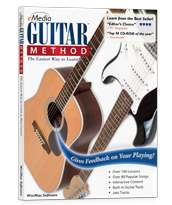 eMedia
Guitar Method
v6
190+ Beginning Guitar Lessons
"eMedia Guitar Method is the best CD-ROM package I've seen
for guitar instruction." – Guitar One Magazine

Editors' Choice – "This program is comprehensive, clear,
well organized, and visually compelling."
– PC Magazine
New v6 Features: Chord Recognition, Jam Tracks, New Songs, and Much More!
Features include:
New features in version 6 include chord recognition technology, dozens of play-along Jam Tracks, Instant Feedback and Performance Evaluation with a new 5-star rating system, ear training exercises, progress tracking, additional songs, and more!
Over 190 guitar lessons by Kevin Garry, Ph.D, award-winning guitarist and Professor of Music, cover rock, blues, folk and classical to teach you how to play guitar in a variety of styles. These easy guitar lessons for beginners teach you how to read guitar tabs (tablature), easy chords, and guitar notes (music notation).
Over 80 great guitar songs with new play-along Jam Tracks include hits such as "Knockin' on Heaven's Door," "Imagine," "Wayfaring Stranger," "Rock'n Me" and many more to make learning fun!
More than 50 videos, many with split-screen view and close-ups of both hands, show you the techniques needed to learn how to play guitar.
eMedia's Animated Fretboard and on-screen fingering charts show fingerings for chords and notes.
Integrated guitar software tools include eMedia's signature Automatic Tuner for guitar, Chord Dictionary (with over 250 guitar chord charts), Metronome, and Recorder.
The Note Tracker and Finger Tracker tools display the notes you're playing in staff notation and on the Animated Fretboard as the guitar software listens to your playing via the computer microphone.
Students can see correctly played chords and notes highlighted as they are played with the Instant Feedback and Performance Evaluation features.
Songs and exercises appear as both audio and MIDI tracks plus new play-along Jam Tracks that can all be looped, slowed down, or sped up.
Learn more about the features of this product...
Note: Once you master guitar basics like how to read guitar tabs and play basic chords, then eMedia Intermediate Guitar Method can provide more advanced guitar lessons. Start learning how to play guitar today!
Also available in
2- or 4-CD-ROM sets...
eMedia Guitar Method Deluxe
2 CD-ROM set
eMedia Guitar Collection
4 CD-ROM set
From survey responses, our customers rate this product:
4.7 stars based on 89 reviews.
Item #: EG10171 UPC: 746290101712