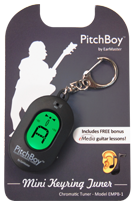 EarMaster
PitchBoy
Keychain Mini Tuner for Guitar
Easily take your guitar tuner wherever you go with
the EarMaster PitchBoy™ Keychain Mini Tuner!
PitchBoy™ is the new pocket-size, keychain mini tuner that's great for musicians on the go. Its small size, easy-to-read display, speed, and accuracy make PitchBoy a perfect fit for anyone in search of a chromatic guitar or bass tuner.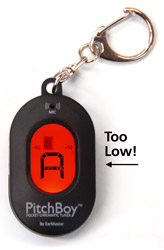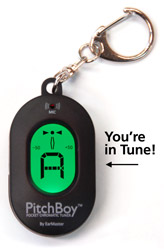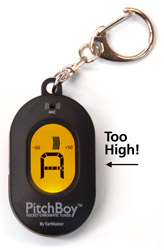 Features include:
Chromatic tuner
Built-in microphone
Includes FREE bonus eMedia guitar and bass lessons
Auto-off function for battery saving
3-color backlit display (flat, sharp, and in-tune)
Battery included (CR2032)
Dimensions: 1 3/4" x 1" x 1/4"
From our partner EarMaster Aps.
EarMaster® is a registered trademark in USA, Japan, and all member-countries in the European Union.
Also available:

Guitar Toolkit

Ukulele Toolkit

Guitar Accessory Kit
Item #: EM05141 UPC: 746290051413