Over four million Stylophone pocket synthesizers have been sold since its invention in 1967. This makes it easily one of the most popular electronic musical instruments of all time. The Stylophone portable synth has been featured on numerous records, including hits such as "Space Oddity" by David Bowie, "Pocket Calculator" by Krafwerk, and "Icky Thump" by the White Stripes.
One reason for this success is that the Stylophone is easy for anyone to play! Simply touch the notes on the metal keyboard with the stylus to play melodies. Choose between three cool, retro synth sounds and add effects like vibrato or pitch change. Other artists who have been associated with this celebrated pocket synth include Belle & Sebastian, The Beatles, Gorillaz, Gotya, Manic Street Preachers, Marilyn Manson, Moloko, Orbital, The Osmonds, Pulp, The Kaiser Chiefs, The Raconteurs, Queen, Vangelis, Rick Wakeman, and many more! The Stylophone is a "must have" for fans of retro synthesizers and pop culture.
Today's Stylophone reissue was introduced by the inventor's son, Ben Jarvis and is manufactured by Dubreq, Ltd. The retro pocket synth retains all of its original features including stylus operation and adds new sounds, controls, and other features such as an audio input to let you play along with your favorite songs on your mobile device. Stylophone is the portable synthesizer that's ready to play anytime and anywhere!
Features include:
Stylus for playing the keyboard.
Built-in speaker to let you play it anywhere.
Tuning control to let you adjust to other instruments or voice, or to use as an effect.
Vibrato switch for an automatic, pulsating pitch effect.
Volume control.
Headphone jack/audio out for sending to mixers, effects, etc.
Audio input to let you hear and play along with music from a mobile device (includes mini jack cable).
Two new, exclusive Stylophone sounds as well as the classic original.
Requires (3) "AA" batteries (not included).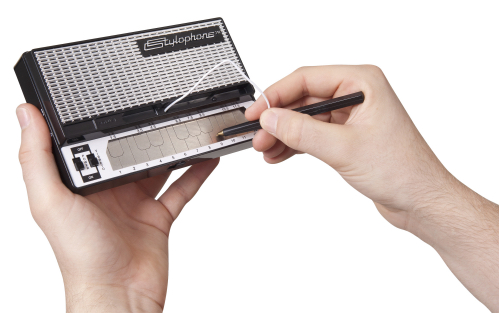 From our partner Dubreq, Ltd.
Item #: DU05151 UPC: 746290051512