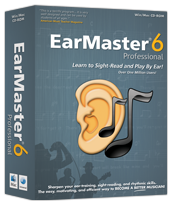 (US and Canada only)
EarMaster® 6 Professional
2,000+ Ear Training Lessons
"EarMaster does everything we were looking for — and more. It runs flawlessly on the University network... All of our theory teachers designed a tutor for their classes. Without exception they found that the tutor editor was complete and that it was easy to use..."
– Hanley Jackson, Professor of Music,

EarMaster 6 Professional teaches ear training for all musicians, at any playing level, on any instrument! If you want to sing, improvise or jam with complete confidence, you need to recognize all the sounds around you.
EarMaster includes over 2,000 ear training lessons for recognizing and transcribing intervals, chords, scales, rhythms and melodies. You can even create your own customized exercises! Learn to play, improvise, notate and compose by ear. EarMaster will challenge trained and untrained ears for all vocalists and musicians playing guitar, piano, bass, drums, flute or any other instrument! Making music with others will become easy and fun!
Learn more about the features of this product...
From survey responses, our customers rate this product:
4.2

stars based on

16

reviews.
From our partner EarMaster Aps.
EarMaster® is a registered trademark in USA, Japan, and all member-countries in the European Union.