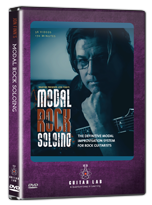 Modal Rock Soloing
DVD Video + Bonus Downloadable Extras!
Guitar Lab - A Quantum Leap in Learning

Modal Rock Soloing, a refreshingly clear and accessible presentation of modal harmony and how to apply modes in your soloing and improvisations.

Hosted by Jon Finn, who joined the guitar faculty at Berklee College of Music in Boston in 1988 and has released 3 albums with the Jon Finn Group.
Guitar Lab's innovative learning systems employ a hands-on approach where students "play" their way through the curriculum using learning tools such as PIP video, practice rhythm tracks, and interactive tab and notation, which allows the student to play along with the tab and notation, at any tempo, without change in pitch.
Learn more about the features of this product...
From our partner True Fire
Item #: TF09131 UPC: 746290091310