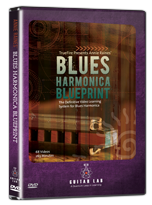 Blues Harmonica Blueprint
DVD Video + Bonus Downloadable Extras!
Guitar Lab - A Quantum Leap in Learning

Blues Harmonica Blueprint delivers the instructional goods in what is likely the most comprehensive work of its kind.

Hosted by Annie Raines, who together with Country Blues master Paul Rishell has won the W.C. Handy Award in 2000 for Acoustic Blues Album of the year, recorded 7 albums, performed on diverse radio and TV shows including A Prairie Home Companion, Late Night with Conan O'Brien, and PBS's Arthur, and has been featured in the new jug band music documentary, Chasin' Gus' Ghost.
Guitar Lab's innovative learning systems employ a hands-on approach where students "play" their way through the curriculum using learning tools such as PIP video, standard notation, chord charts, and bonus material which allows the student to play along with the tab and notation, at any tempo, without change in pitch.
Learn more about the features of this product...
From our partner True Fire
Item #: TF10141 UPC: 746290101415