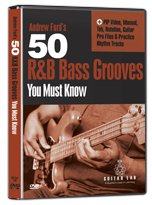 50 R&B Bass Grooves You Must Know
DVD Video + Bonus Downloadable Extras!
Temporarily Out of Stock
Guitar Lab - A Quantum Leap in Learning

50 R&B Bass Grooves You Must Know, Andrew Ford generously shares essential bass lines and grooves inspired by the music of James Brown, Sly and the Family Stone, Marvin Gaye, The Brothers Johnson, Chic, Bill Withers, Curtis Mayfield, Stevie Wonder, Jackson 5 and many other chart-topping artists.

Hosted by Andrew Ford, who has performed with legendary artists in almost every major genre of music, while also having a Masters degree in Education.
Guitar Lab's innovative learning systems employ a hands-on approach where students "play" their way through the curriculum using learning tools such as PIP video, practice rhythm tracks, and interactive tab and notation, which allows the student to play along with the tab and notation, at any tempo, without change in pitch.
Learn more about the features of this product...
From our partner True Fire
Item #: TF08141 UPC: 746290081410