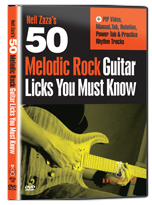 50 Melodic Rock Guitar Licks You Must Know
DVD Video + Bonus Downloadable Extras!
Guitar Lab - A Quantum Leap in Learning

Guitar Lab's 50 Melodic Rock Guitar Licks You MUST Know! DVD offers dozens of harmonic and technical approaches for crafting melodic lines in your own solos and improvisations. Learn how to play engaging, melodic solos over the chord changes found in hundreds of rock and pop tunes.

Hosted by Neil Zaza.
The Guitar Lab DVD series employs a hands-on approach allowing students to play their way through the curriculum, rather than struggle through tedious theory and exercises. Features PIP (Picture in Picture) video, manual, standard notation, tab, power tab files, practice rhythm tracks and bonus material.
Learn more about the features of this product...
From our partner True Fire
Item #: TF09132 UPC: 746290091327