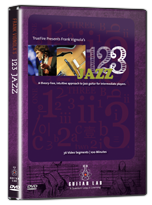 1-2-3 Jazz Guitar
DVD Video + Bonus Downloadable Extras!
Temporarily Out of Stock
Guitar Lab - A Quantum Leap in Learning

1-2-3 Jazz, Frank Vignola presents an intuitive approach for learning how to play jazz guitar without a trace of theory, no tedious exercises and no long drawn out hyperbole about modes, altered chords and similar rocket science.

Hosted by Frank Vignola, who has recorded and performed with Donald Fagen, David Grisman, Les Paul, Queen Latifah, Mark O Connor and Wynton Marsalis.
Guitar Lab's innovative learning systems employ a hands-on approach where students "play" their way through the curriculum using learning tools such as PIP video, practice rhythm tracks, and interactive tab and notation, which allows the student to play along with the tab and notation, at any tempo, without change in pitch.
Learn more about the features of this product...
From our partner True Fire
Item #: TF06141 UPC: 746290061412