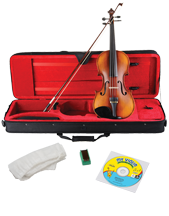 eMedia
My Violin Premium Starter Pack
Premium Violin + Win/Mac CD-ROM

It's easy and fun to learn with Val the Violin!
Val explains how, the videos show how, and the screens have the songs. Learn how to tune your violin and read music notation. Learn many fun songs that you and your friends can sing along with!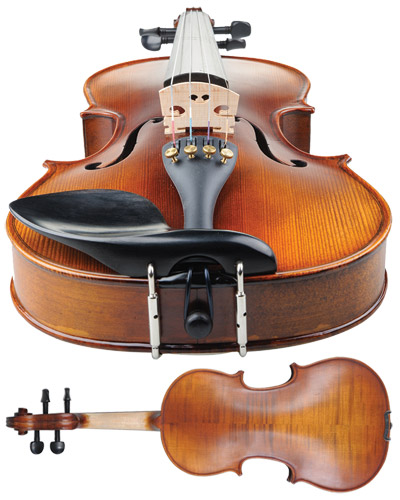 The eMedia My Violin Premium Starter Pack provides everything you need to learn violin: a great-sounding and visually striking full-size violin, violin bow, plush carrying case, rosin, cleaning cloth, and the award-winning eMedia My Violin CD-ROM for Windows and Mac computers. Get the violin lesson software that has helped countless beginner violin students learn the fun and easy way with musical games and interactive lessons that can even listen to you play! Animated character Val the Violin guides students through over 160 lessons, teaching them all of the violin basics. Authored and demonstrated by professional violinist Sabina Skalar, M.M., the lessons are great for beginners of any age, plus you get eMedia's best beginner violin!
The premium violin features a solid spruce top with solid maple back and sides displaying a gentle flame pattern in a matte, mocha brown finish. The tuning pegs are made of ebony, and the tailpiece and sturdy fine tuners are made of carbon fiber. The wood bow features an ebony frog for a comfortable grip. The violin has been meticulously set-up in advance and packed in a protective cloth. The bridge is in place, the strings are loosened for shipping. The sturdy carrying case has light foam padding, as well as a handle and shoulder strap, and bow rosin is included.
eMedia My Violin lesson software teaches with the help of videos and fun violin songs for kids and adults. eMedia's Animated Fingerboard shows correct placement for fingers as the music plays, and MIDI tracks let you adjust the speed (song tempo). My Violin's revolutionary Finger Tracker actually listens to your playing and shows whether your fingers are playing the correct note. Colorful MIDI accompaniments make learning how to play violin more fun. Additional violin lesson software tools include an automatic tuner, metronome, and a digital recorder that makes it easy to review your progress.
All the violin basics are covered, including proper violin, hand, and finger position; the elements of correct bowing technique; how to tune the violin; and playing rhythmic tunes. Lessons include easy violin songs and an introduction to reading music notation.
Bundle includes:
eMedia premium violin with a carved, solid spruce top and carved, solid maple back and sides displaying a gentle flame pattern in a matte, mocha brown finish. It features ebony tuning pegs plus carbon fiber tailpiece and fine tuners.
Wooden bow featuring an ebony frog.
Acessories include: bow rosin, chalk for tuning pegs, polishing/cleaning cloth, and extra strings.
Premium case with foam padding, handle, and shoulder strap.
Award-winning eMedia My Violin CD-ROM violin software for Windows and Mac computers.
Learn more about the features of this product...
Item #: EV04153 UPC: 746290041537