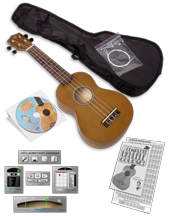 eMedia
Ukulele Beginner Pack
Ukulele + DVD Video + Software Toolkit
Temporarily out of stock.
"Never was an instructional video so well named, and such good value...
I would strongly recommend this video for both the beginner and those who are ready to progress beyond their basic strum."
– Susan Abbotson, The Ukulele Hall of Fame Museum
The eMedia Ukulele Beginner Pack is a complete package for learning how to play the ukulele. It is the perfect beginner ukulele and lesson set for learning ukulele basics and improving technique. Ralph Shaw, "King of the Ukulele," guides you through all the ukulele basics and beyond.
These beginner ukulele lessons cover how to tune the ukulele; strumming; basic ukulele chords and using chords up the neck; how to use "ornament" notes; and how to play 4/4, 3/4, and jig time. The 60 minute course also helps you to develop right-hand techniques such as the syncopated "split stroke," rolls, triplets, and more!
Features include:
A full-size Ulu ukulele (21") with a solid basswood top, neck, back, and sides, and rosewood bridge designed to be tuned as a soprano ukulele to G-C-E-A using nylon strings.
Ralph Shaw's Complete Ukulele Course DVD featuring instruction from the "King of the Ukulele," Ralph Shaw.
A printed ukulele chord chart.
An extra set of strings.
A nylon carry bag.
A downloadable eMedia Ukulele Toolkit featuring Automatic Ukulele Tuner, Chord Dictionary, Metronome, and Recorder.
Run time approx: 60 minutes.
Learn more about the features of this product...
Also available separately
(not included in this bundle):

Ukulele For Dummies

Ukulele Course for Kids

Essential Strums