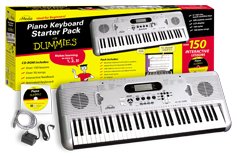 eMedia
Piano Keyboard Starter Pack For Dummies
USB MIDI Keyboard + Win/Mac CD-ROM
With more than 200 million books in print covering 1,300+ topics, For Dummies is the most widely recognized and highly regarded reference series in the world. Since 1991, For Dummies has helped millions make everything easier.
The Piano Keyboard Starter Pack For Dummies includes everything you need to learn to play piano straight out of the box. You get a touch-sensitive music keyboard plus eMedia Piano For Dummies piano software for Windows and Mac that makes learning easy and fun!
eMedia Piano For Dummies piano software includes over 150 interactive lessons plus videos featuring Irma Irene Justicia, M.A., from the renowned Juilliard School of Music. Learn over 50 piano songs across a multitude of styles with pop hits like Billy Joel's "Piano Man," classical pieces like Bach's Minuet in G, plus folk and holiday classics.
eMedia Piano For Dummies combines a fun, "For Dummies" attitude with eMedia Interactive Feedback piano software technologies to help you learn to play piano faster.
Bundle includes:
A 61-key, full-size, touch-sensitive piano keyboard with built-in speakers, 300 realistic sampled sounds (including digital piano), reverb and chorus effects, piano chord dictionary, sheet music stand, and headphone jack.
USB/MIDI connection for interfacing with your computer.
Piano For Dummies piano software with over 150 interactive lessons.
An AC adapter (and can also run on 6 "AA" batteries).
This is an ideal, affordable solution for anyone who wants to learn how to play piano or electronic keyboard at their own pace, in their own home.
Learn more about the features of this product...
Pick up a sustain pedal for this keyboard.
From survey responses, our customers rate this product:
4.7 stars based on 89 reviews.
Item #: FD05107 UPC: 746290051079