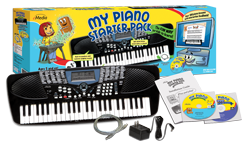 eMedia
My Piano Starter Pack
USB MIDI Keyboard + Win/Mac CD-ROM and DVD
"Very well structured with a logical flow for maximum educational potential for children. Editor's Choice!"
– Rev. James Fisher, The Toy Man™
"EDITOR'S CHOICE COMPUTER TIMES 2008
My Piano is a great software package to teach younger kids how to play the piano."
– Terry Kibiloski, Computer Times
Features include:
eMedia My Piano software (Win/Mac) with over 100 interactive piano lessons for kids.
49-key keyboard with midsize keys, built-in speakers, headphone and microphone jacks, over 100 realistic sampled sounds (including digital piano), one touch accompaniment, and a metronome.
USB cable for connecting to a computer.
AC adaptor (also runs on 6 "C" batteries for portable use).
Piano chord dictionary.
Installation guide.
Bonus eMedia My Piano interactive DVD!
This is a great solution to teach children the basics of music and help them experience the self-satisfaction of playing piano.
Learn more about the features of this product...
From survey responses, our customers rate this product:
4.4 stars based on 13 reviews.
Item #: EK05103 UPC: 746290051031