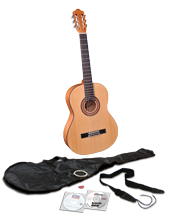 eMedia
Teach Yourself Classical Guitar Pack
Nylon-String Acoustic Guitar + Win/Mac CD-ROM and DVD
"eMedia Guitar Method is the best CD-ROM package I've seen
for guitar instruction." – Guitar One Magazine

Editors' Choice – "This program is comprehensive, clear,
well organized, and visually compelling."
– PC Magazine
The eMedia Teach Yourself Classical Guitar Pack Pack comes with everything you need to learn how to play classical guitar. You get a great beginner classical guitar that is easy to play, plus the best-selling eMedia Guitar Method version 5 CD-ROM and a bonus eMedia Essential Acoustic Guitar DVD. Beginning classical guitar studies are easy with a great instrument and a teacher who's always available whenever you have the time.
eMedia Guitar Method software lets you learn at your own pace with over 180 easy-to-follow, comprehensive lessons created by noted classical guitarist and teacher Kevin Garry, Ph.D. Over 50 videos and interactive lessons cover beginning classical guitar basics like fingering, tuning, how to hold the guitar, and how to play simple guitar chords. Then you'll move on to learning how to read guitar TABs (tablature) and standard music notation plus fingerpicking and more difficult guitar techniques. eMedia technologies such as Interactive Feedback make learning easier. Guitar lessons are fun when you practice with the over 70 included songs, with selections from Bach to the Rolling Stones.
Bundle includes:
A full-size (39"), Sequoia nylon-string, classical guitar with spruce top, rosewood fingerboard, and a warm, natural sound.
The award-winning eMedia Guitar Method CD-ROM with over 180 guitar lessons!
Accessories including a guitar strap, extra set of strings, and guitar pick.
A durable, nylon gig bag w/straps and pocket.
The bonus eMedia Essential Acoustic Guitar DVD for use with any standard DVD player.
Get the beginner classical guitar pack that delivers both a great instrument and the guitar software that makes learning faster and easier – get the eMedia Teach Yourself Classical Guitar Pack!
Learn more about the features of this product...
From survey responses, our customers rate this product:
4.4 stars based on 21 reviews.
Item #: EG07107 UPC: 746290071077