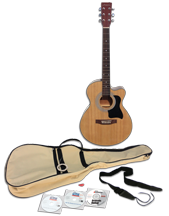 eMedia
Teach Yourself Acoustic Guitar Pack Deluxe
Steel-String Acoustic Guitar + 2 Win/Mac CD-ROMs and a DVD
"eMedia Guitar Method is the best CD-ROM package I've seen
for guitar instruction." – Guitar One Magazine

Editors' Choice – "This program is comprehensive, clear,
well organized, and visually compelling."
– PC Magazine
The eMedia Teach Yourself Acoustic Guitar Pack Deluxe comes with everything you need to learn how to play guitar. You get a great quality beginner acoustic guitar with a resonant, bold sound, plus guitar accessories and the best-selling eMedia Guitar Method and eMedia Intermediate Guitar Method guitar software to help you learn how to play guitar quickly. Also you will receive a bonus eMedia Essential Acoustic Guitar DVD that can be used in any DVD player!
eMedia Guitar Method and eMedia Intermediate Guitar Method software let you learn at your own pace and include over 350 easy-to-follow, comprehensive lessons authored and demonstrated by professional guitarist and teacher Kevin Garry, Ph.D. Lessons include over 80 videos to illustrate proper technique and guide you through how to tune a guitar, and play simple guitar chords, guitar basics, and more! Then you'll go on to learning how to read guitar TABs (tablature) and guitar notes (music notation). All the beginner acoustic guitar topics are covered plus acoustic guitar techniques like fingerpicking and more advanced strumming patterns. eMedia technologies such as Interactive Feedback make learning easy and fun! Guitar lessons are fun when you practice with the over 150 included songs across a multitude of styles with hits made famous by Bob Dylan, Steve Miller, the Rolling Stones, and others.
Bundle includes:
A Sequoia steel-string, cutaway acoustic guitar with solid spruce top, mahogany back and sides, full-size (40") body, and rosewood fingerboard.
eMedia Guitar Method and eMedia Intermediate Guitar Method for Windows and Mac.
A deluxe, padded, nylon gig bag with backpack straps and zipper pouch.
Accessories including a nylon guitar strap, an extra set of strings, and a guitar pick.
eMedia Essential Acoustic Guitar interactive guitar lesson DVD.
Learn more about the features of this product...
Item #: EG08152B UPC: 746290081526