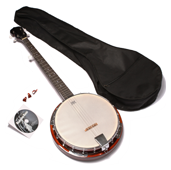 eMedia
Play Banjo Pack
Banjo + DVD Video + Software Toolkit
Out of Stock
"Avram Siegel: Beginning Banjo features the celebrated musician leading the viewer through a variety of exercises designed to help newcomers adjust to the instrument. In addition to pointers on picking and fingering, the techniques are presented from a variety of angles so viewers can more easily absorb the lessons."
– Perry Seibert, All Movie Guide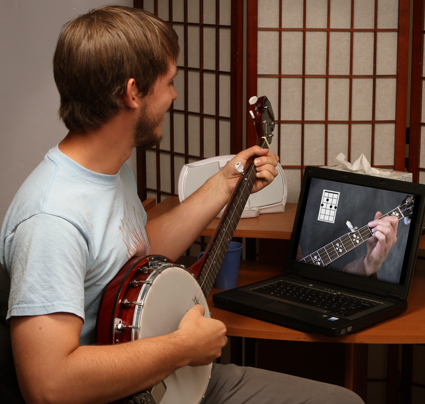 The eMedia Play Banjo Pack gives you everything you need to learn how to play banjo. Learn to play this classic folk instrument with the perfect beginner banjo pack. Includes a banjo, gig bag, finger picks, thumb pick, a DVD filled with video banjo lessons, and even a software banjo tuner from eMedia.
The included Beginning Banjo DVD teaches easy banjo chords and basic banjo technique using popular bluegrass songs. You get all the beginner banjo lessons you need and even learn special techniques like slides, forward rolls, backwards rolls, hammer-ons, pull-offs, and tag licks!
Features include:
A full-size banjo featuring a poplar neck and 11" resonator shell made from Sapele wood.
One durable nylon gig bag w/straps and pocket.
Two banjo finger picks and one banjo thumb pick.
The Beginning Banjo DVD to make it easy to learn how to play banjo.
An eMedia Banjo Tuner.
Exclusive access to a 70-page online banjo lesson book!
Learn how to play banjo today with this great pack – banjo for beginners has never been easier!
Learn more about the features of this product...
From survey responses, our customers rate this product:
4.3 stars based on 15 reviews.