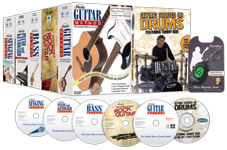 eMedia
Band Collection
1000+ Music Lessons for the Whole Band
"Well planned and effective" – The Wall Street Journal
"Impressive and thorough" – American Music Teacher Magazine

Editors' Choice – "This program is comprehensive, clear,
well organized, and visually compelling."
– PC Magazine
Do you ever wonder how to start a band? Famous groups such as U2 started out as just friends who wanted to play. They became a band by learning music and how to play their instruments all together. Or maybe you already have a band, and some of the members could use help getting their playing to the next level. Now it's easier than ever to start a band or help one to play better, with the eMedia Band Collection. This specially-priced bundle combines eMedia's award-winning music software that features interactivity, videos, and great songs with a drum instruction DVD. That's over $300 worth of acclaimed software to help you start a band or improve your current band. This is equivalent to hundreds of hours of private instruction costing thousands of dollars.
Proper instrumental techniques are taught with split-screen videos and multiple angles to make it easy to see how to place hands and fingers. For bass, guitar, piano, and voice eMedia's Interactive Feedback technology listens to you and shows you when you are playing or singing the correct notes.
You get dozens of great songs across multiple musical styles to keep learning fun. Song sections and exercises can be looped and slowed-down to make learning easier. Lessons cover rhythm, notes, chords, and how to read both guitar/bass tabs and music notation. You get all the basics of music you need to start a band and make it easier to learn songs, jam together, and even write your own music.
Features include:
Five interactive software titles and one instructional DVD at a special, low price. The eMedia Band Collection includes the latest versions of eMedia Guitar Method, Interactive Rock Guitar, Bass Method, Piano and Keyboard Method, and Singing Method software, plus a Getting Started on Drums instructional DVD and a PitchBoy mini tuner.
Over 1,000 total lessons were created by professional instructors with decades of experience from major music schools including Juilliard School of Music and the Guitar Institute of Technology.
Learn instrument techniques and music basics such as rhythm, chords, intervals, and how to read music notation and tabs.
Interactive Feedback makes learning easy as it listens to you and shows when you play or sing the right notes.
Guitar lessons for both acoustic and electric cover open and power chords, pedals, bends, licks, and the blues scale to help you learn lead guitar.
Voice and keyboard lessons offer Performance Evaluation that grades performances and lets you see your progress.
Bass lessons teach essential bass lines and how to create bass parts for chord progressions.
Drummers learn how to set up a drum kit, drum tuning, foot/hand coordination, and basic beats found in hundreds of songs.
Dozens of great songs including "House of the Rising Sun," the "Midnight Special," and other classics many with professional accompaniment and jam tracks.
Songs used in eMedia music software include both audio and variable-speed MIDI tracks. Sections can be looped, slowed down, or sped up.
Integrated tools include a guitar/bass tuner, chord dictionary, metronome, and audio recorder. You also get a PitchBoy keychain, chromatic tuner that's great for band practices and gigs.
Learn more about the features of this product...
Item #: EG12141 &nsbp; UPC: 746290121413